Create a Flash Flip Book with Watermark on the Flipping Pages
The PDF to FlashBook Professional is a powerful flash flipbook creator we provide for you to make ebook with ease. We have considered that a watermark is necessary in some occasions no matter for advertisement target or show it as an anti-fake label. So today I would like to tell you how to add a watermark into the flipping pages.
I will make a simple example for you. You may know the popular novel The Secret. There are amount of people like to read it around the word. We will transfer it into a flash flip book for readers to read easily. Now please open the PDF to FlashBook Professional and click "Add File" to transfer to the import window. Select the novel from your computer in the "Import PDF" tab. You can see the "Watermark" tab in the middle right side of this window too. Click "Set Watermark" button, you will enter "Select Watermark" window. You select a pre-designed watermark or design your own watermark here.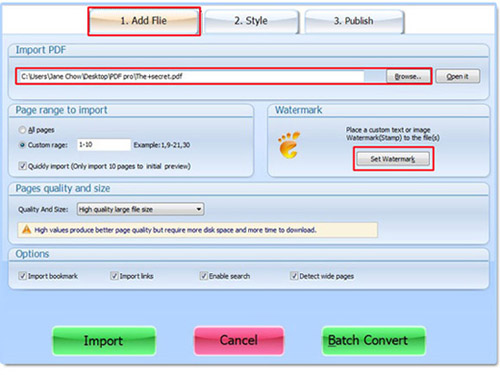 We will tell you how to add a new text watermark here. Just click the "Add new watermark" button and choose the "New Text Watermark". Define the Name, the Text content, the Position, the Size and the Color for your watermark. You can also do the others settings in the Text Effect tab, the Range tab, the Links tab and the Date Time tab. After that, you can click "OK" to return to the "Select Watermark" window, you should make sure that you have selected the watermark which you want to embed into your flash flip pages. Then click "OK" and import the PDF file now. You will find the watermark you designed in the pages now.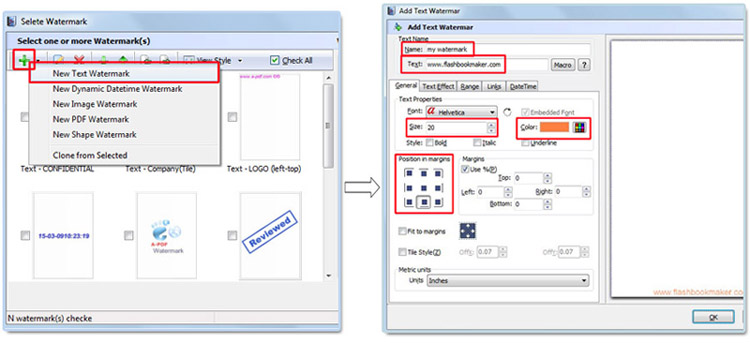 It is really easy and useful. You can try to experience this magical feature right now. And finally, I would like to give you a soft remind. You should not use this feature frequently for a watermark will distract attentions.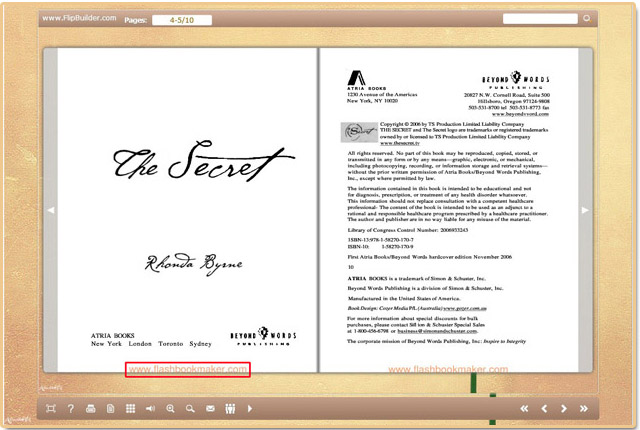 For more great flash flip software, you can reference to:
PDF to FlashBook Professional
PDF to FlashBook Professional for Mac
PDF to FlashBook Standard
PDF to FlashBook Standard for MAC
PDF to FlashBook Lite