Two Ways to Add a Piece of Music into the Flash Flip Page
A piece of background music for the flash book can help to create a relax atmosphere easily. There are two ways for you to realize this function with the PDF to FlashBook Professional. Of course, these two ways are available to any other flip book software which is of professional version.
The first method is to add a sound file in the right design setting panel. Find the "Sound" group in the panel, transfer the "Disable" to "Enable" in the "Enable Sound" bar, choose a sound file from your computer in the "Sound File" bar, and then define the sound loops in the "Sound Loop" bar. "-1" means that the background music will play all the time; a value which is greater than zero stands for the times of playing. The music will be play automatically when you open the flash page in this method.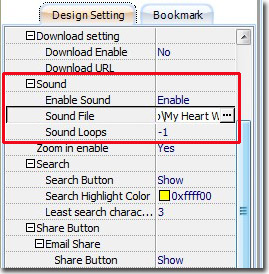 The second method is to add a sound file by the Flip Page Editor. So enter the Flip Page Editor at first. Click the "Add Sound" button at the top toolbar and draw a frame on the page. A music play bar which includes a play/pause button, a scroll bar and a volume control bar will be created. Now, you can select a sound file by the "Select Sound" button, define the player skin color, and define when the sound plays and pauses. You can also adjust the player's size and location by easily dragging you mouse.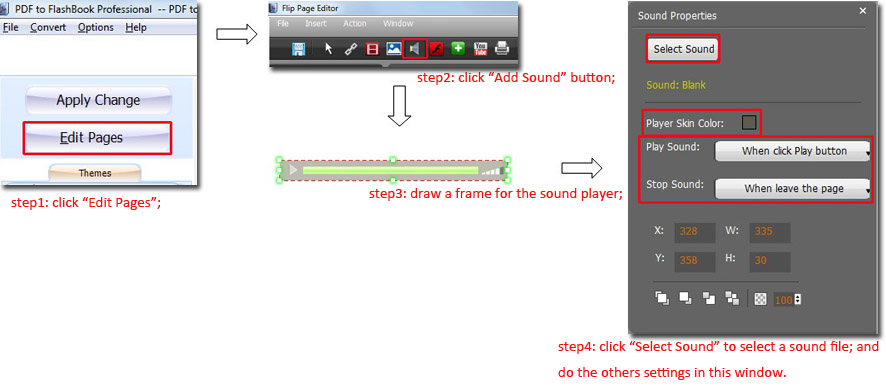 You must have found the differences between these two methods by now. When compared to the first one, where there is a play bar, by which you can control when to play and pause, adjust play progress and volume in the second one. Are you ready to add a melody for your flash flipbook now? Just try to have an enjoyable experience!
For more great flash flip software, you can reference to:
PDF to FlashBook Professional
PDF to FlashBook Professional for Mac
PDF to FlashBook Standard
PDF to FlashBook Standard for MAC
PDF to FlashBook Lite