What does the Photo Slideshow Means to PDF Flip Book
You may have thought of many ways to do a good job. To learn more about the flip book maker will make you get twice the result with half the effort. The high technology enables us to convert static PDF files to interactive virtual flash book. To make it severed better for you, our software engineers have spent much time to develop good software which is powerful enough to meet your requirements, easy to operate and in a reasonable price. We collected suggestions from customers and designed the products carefully. The photo slideshow is one of the most distinguish features. We hope that you make full use of it and know more about why we provide this function to you.
Inserting images into pdf flip book can make a fresh feeling to viewers. And it is also a good way to decorate the book with some beautiful pictures. But have you ever imagined that the PDF to Flash Book Professional, which is designed especially for transferring PDF files to attractive flash book, is able to make a photo slideshow. That the photos you have added into the page can play as slide. What an amazing effect!
If you are creating the flash flip book to show products, there is no doubt that a photo slideshow is the best choice. Because of that showing in picture is a much better way than verbal description. So no matter you are clothes stores, furniture industries, or architecture firm, just to insert a photo slideshow into your company brochure. This little feature will bring you many benefits although it works simply.
You can have a look at the video to enjoy the performance. If you still do not know how to make it, you can reference to the FAQ: How to slide show photos in your flash book.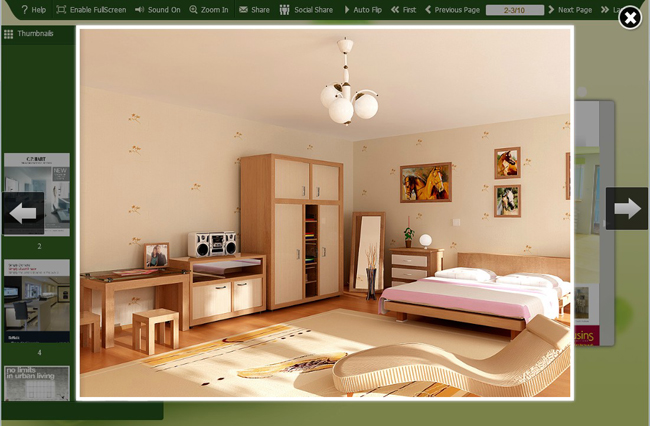 For more great flash flip software, you can reference to:
PDF to FlashBook Professional
PDF to FlashBook Professional for Mac
PDF to FlashBook Standard
PDF to FlashBook Standard for MAC
PDF to FlashBook Lite