Q: Why the flash book flips from left to right?
A: Read the following direction and you will find it's very easy to do.
I was tried to create a flash magazine, when I think it was done, I found that it flips left to right! Don't you think that is strange for English to read from the right hand side? Maybe that's because I made some wrong settings, how can I fix it?

Did you made books in Arabic before? You may be set the "right to left" option to "yes" which means your book is read from right to left, so the book will flip from left. Just switch it to "no" return to normal.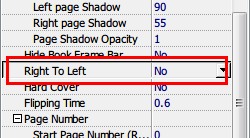 *Please be aware that you have to click "Apply Changes" to apply any changes to the flash book.
Free download PDF to FlashBook Standard
Free download PDF to FlashBook Prefessional