Q: The flipping book cannot zoom in?
A: Read the following direction and you will find it's very easy to do.
I created a flash magazine on my own with your PDF to FlashBook software. And there are some paragraphs that may zoom in to read, but when I tried to do so, the zoom in feature didn't work. Isn't the zoom in and zoom out feature activated in default?

They are activated in default, but they will be disabled if you deactivated them.
Check the "zoom in enable" option in the design setting panel; make sure it is "yes". If it still not works, please contact us.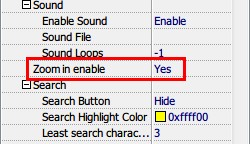 *Please be aware that you have to click "Apply Changes" to apply any changes to the flash book.
Free download PDF to FlashBook Standard
Free download PDF to FlashBook Prefessional