Q: The flip book flips automatically when launched
A: Read the following direction and you will find it's very easy to do.
Hi there, I've got a problem on my flip book editing. I tried to convert a PDF to flash book with the PDF to FlashBook software, it worked well, but when I launch the outputted flash book, I found it flips automatically. Finally I found the auto play button and stopped it. But no one wants to do it every time when start the book, so how to make it no to auto flip?

There is a "automatic flip when start up" option, this value on your machine maybe "yes", just switch it to "no" and apply change, the book will auto flip only when you click the auto play button.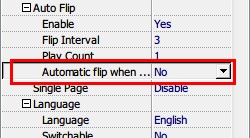 *Please be aware that you have to click "Apply Changes" to apply any changes to the flash book.
Free download PDF to FlashBook Standard
Free download PDF to FlashBook Prefessional