Q: How to add download URL to flash flip book?
A: Read the following direction and you will find it's very easy to do.
Perhaps you uploaded your flash book to your site or blog, and want let people to download it, but don't know how to do it? Yes, PDF to FlashBook can help you out. You can not only provide the URL to download the book, but also a URL to anything relative. I would say that is a convenient feature. Now let's see how to do.

Find "Download Setting" option and set "Download Enable" to YES, then enter your link to the "download URL" blank.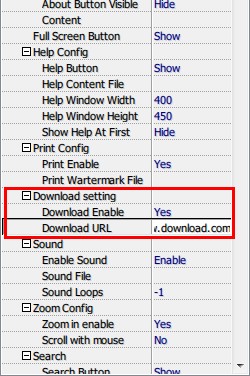 Apply these changes, a "download" button will be show on the tool bar. Click it, and it will lead your reader to the download page.

*Please be aware that you have to click "Apply Changes" to apply any changes to the flash book.
Free down PDF to FlashBook Standard
Free down PDF to FlashBook Prefessional