Q: Can I print my output flash book with watermark?
A: Read the following direction and you will find it's very easy to do.
PDF to FlashBook helps you to make a brilliant flash flipping book. You can flip it like a real one, can add links on it and even add a video. A flash book could do everything a real book can or can't do. However, a paper book has its own fascination, paper books will not disappear. So how to print a flash book to a paper one? Let's check it out.

Step1: Set "Print Config->Print Enable->Yes", then apply it. A print button will be shown on the tool bar.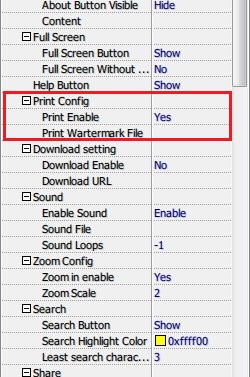 Step2: You can also add watermarks to the printed book. Just choose a file in the section below "print enable".



*Please be aware that you have to click "Apply Changes" to apply any changes to the flash book.
Free download PDF to FlashBook Standard
Free download PDF to FlashBook Prefessional