Q: Quick add background music to flash flip book
A: Read the following direction and you will find it's very easy to do.
Feel boring just staring at the screen and watch a flash book? Want something additional? Maybe some music? PDF to FlashBook provides the feature to add a BGM to your flash flip book and give you a first-class reading experience! A few clicks to do.

Set "Sound->Enable Sound->enable", then choose a sound file from your computer in "sound file". Then set "sound loops", "-1" stands for playing the sound file all the time while viewing flipbook, other value (N>0) stands for the times of playing the sound file.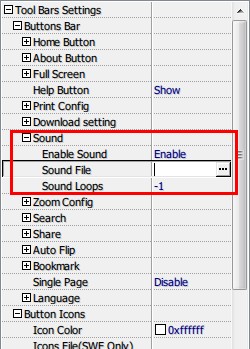 *Please be aware that you have to click "Apply Changes" to apply any changes to the flash book.
Free download PDF to FlashBook Standard
Free download PDF to FlashBook Prefessional