Q: Make the flip book flips form right to left
A: Read the following direction and you will find it's very easy to do.
I have some PDFs which are written in Arabic, I tried to convert into flash books but they are flip from right to left. I'd like to find some converter that can make a right-to-left flip flash book, can PDF to FlashBook do this? Good question, PDF to FlashBook do have this feature. It can help you make a flash flipping book which is written in Arabic or some Japanese or any language that reads from right to left. Just need some easy clicks.

Set "Right To Left->Yes" then apply it. Done, you now have a flash book flips from right.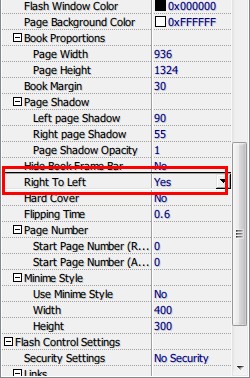 *Please be aware that you have to click "Apply Changes" to apply any changes to the flash book.
Free download PDF to FlashBook Standard
Free download PDF to FlashBook Prefessional