Q: Add a sound file to current page of flash flipping book
A: Read the following direction and you will find it's very easy to do.
Different from the background music, this is a feature that you can any sound files relatives to the current page contents. For example, while you're presenting products, you can play some client interview recordings. Or when introducing a song, you can even put it into the page. Now let's see how to add sound into a page.
Step1: Click "Edit Pages", a new window will show up.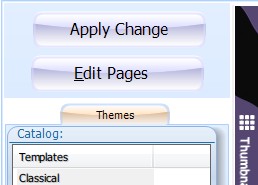 Step2: Click "Add sound" button or choose "Insert->insert sound", then draw an area for the sound bar.



Step3: Look at the right side of the window, a "Sound Properties" window was show, click "Select Sound" to select a sound file from your computer. Then you can customize the player bar skin color, play controls, player size and opacity.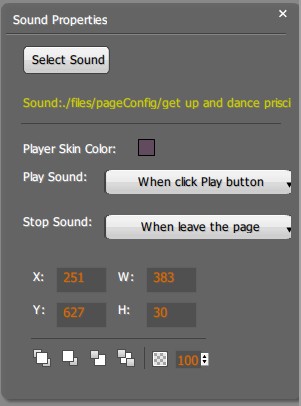 Step4: When finished, click "save"

button or "save and exit"

button to save and back to the main interface. Apply these changes.


*Please be aware that you have to click "Apply Changes" to apply any changes to the flash book.
Free download PDF to FlashBook Standard
Free download PDF to FlashBook Prefessional