Q: Burn the flash flip book to CDs?
A: Read the following direction and you will find it's very easy to do.
I'm working on a private magazine, and I'd like to put an e-version in it as attachment, so I decided to burn to CD. How can I do to burn the flash magazines to CD in easy way? Good question. PDF to FlashBook is not just simply help you make a flash flip book, it can also provide you publishing options. Burn a flash book to CD is so easy.

In the Publish tab, check "burn to CD" option, then choose your CD writer and CD title. If you want the book to flip automatically, also check "Make it automatically play the flipbook in CD".


The auto flip option is below, Flip interval=3 means flip every 3 seconds; play count means how many times you want it to play.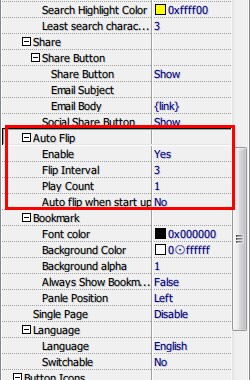 *Please be aware that you have to click "Apply Changes" to apply any changes to the flash book.
Free download PDF to FlashBook Standard
Free download PDF to FlashBook Prefessional