Q: How to install Themes for PDF to FlashBook software?
A: Read the following direction and you will find it's very easy to do.
PDF to FlashBook has many templates for your flipping books to choose, also, you can design them yourself or download from our site. How to install templates? Let's check it out.
Template importation is current to PDF to FlashBook Standard (Pro) and PDF to FlashBook Lite.

Click "File" and choose "Import Themes", then choose a .thm file from your computer. After imported themes successfully, find the template in "template" column; click "Float" button if you're using PDF to FlashBook Lite.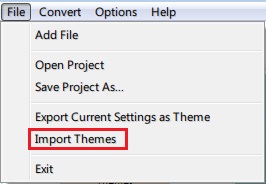 *Please be aware that you have to click "Apply Changes" to apply any changes to the flash book.
Free download PDF to FlashBook Standard
Free download PDF to FlashBook Prefessional