Q: How to change toolbar icon color of flipping e-books?
A: Read the following direction and you will find it's very easy to do.
You must face this problem: Changed a background image, but you found that the toolbar color doesn't match the image! So you change toolbar color. Oh no, now is the icons' turn, that color looks strange! What can I do now? In fact, you can change the icon color too. This option is not close to the toolbar color option so maybe you can't aware it.

Find "Button icons" and change the "Icon color" option.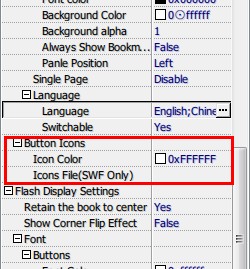 *Please be aware that you have to click "Apply Changes" to apply any changes to the flash book.
Free download PDF to FlashBook Standard
Free download PDF to FlashBook Prefessional