Q: How can I use my own brand picture as the background of my created flash book?
A: The template in the program enables you to add two background images: Outer Image and Inner Image.
You can make Inner background image to show special information, such as advertisement or company logo image:
Click "Tutorial->Background Config->Background" to set Outer or Inner Background File, and there are also 11 kinds of "Background Position" for you to choose: Scale to fit, Fill, Top Left, Top Center, Top Right, Middle Left, Middle Center, Middle Right, Bottom Left, Bottom Center and Bottom Right.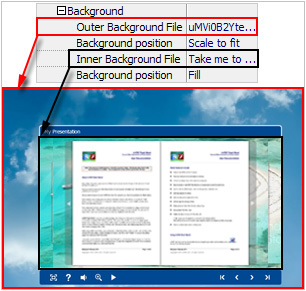 You can also just set background color to create a straightforward template to have reader to focus on your book content. Gradient Angle is the clockwise angle from the Color A to Color B. You can define pure color background with setting the same color for "Gradient Color A" and "Gradient Color B":