Q: Can I save the current flash book template to use in other flipping pages?
A: Read the following direction and you will find it's very easy to do.
Have you ever face this problem: you spent plenty of time to design a template for your flash flipping pages, and you feel satisfied with that, or you are making a series of album or magazine or something and you need to use a unified style to them. If there is not a feature to help you save the design, you may need to do it every time. PDF to FlashBook won't let it happen. Deservedly, you can import template, then you can export templates too.

Click "File" and choose "Export current settings as theme", choose an output folder and name the .thm file, then click OK. Your template setting was saved. To import template please see here.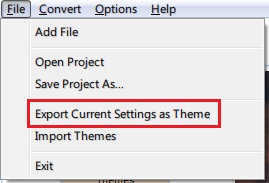 *Please be aware that you have to click "Apply Changes" to apply any changes to the flash book.
Free download PDF to FlashBook Standard
Free download PDF to FlashBook Prefessional