Q: How to add the same object to different pages of the flash flipping book?
A: Read the following direction and you will find it's very easy to do.
When you are dealing with you flash flip catalog, you may come across some problem like this: you need to add an audio or a video, or maybe a graphic to page, and you want that objects to be in several pages, which means the same object in some different pages.
You can copy and paste the object to any page if you don't need many; you can also set a page range that needs objects to be pasted.

Step1: click "Edit Pages" to open the page editor window.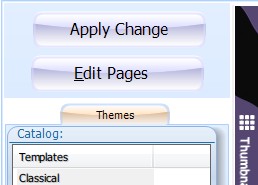 Step2: select an object; click "copy the selected objects (Ctrl+C)" to copy it, and then click "paste the selected objects to current page (ctrl + v)" to paste it;


You can also click "Copy/Apply the selected objects to other pages" to set page ranges that need to be pasted.

*Please be aware that you have to click "Apply Changes" to apply any changes to the flash book.
Free download PDF to FlashBook Standard
Free download PDF to FlashBook Prefessional