Q: Make ebooks with flip page effect for iPhone or Android devices?
A: Read the following direction and you will find it's very easy to do.
Here is one of the questions we heard about: I published the flash book to html and also make a mobile version, but why is the book slides when I check it on my smart phone, doesn't it flips? So I taped my phone to try finding some options that can change it to flip effect, but not any. Is that means the flash book only flips on computer?
That means you ignored the mobile version options. Actually you can define the mobile version's quality and page turn effect.
To change the mobile version options, please click "Options" button of the menu bar and choose "Application options".

Then choose "create mobile version" tab in the option window. You can define output quality and page turn effect here. Choose "single page flip" to make the book flips in mobile devices.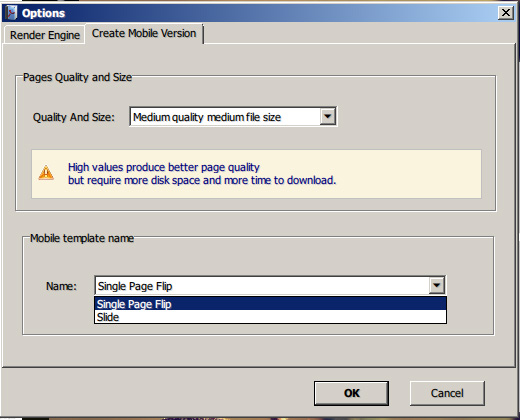 *Please be aware that you have to click "Apply Changes" to apply any changes to the flash book.
Free download PDF to FlashBook Standard
Free download PDF to FlashBook Prefessional