Q: Why does not the links available when the PDF converted to flash book?
A: Read the following direction and you will find it's very easy to do.
I have converted my PDF to flash book, which have some link URLs in original. But I found them not work in the flash book? Do I need to add those URLs again in the flash book?
No, you don't need to add again, one more step when importing PDF is fine.

When importing PDF to PDF to FlashBook, take a look at the option blank and make sure the "Import Links" option was checked before you click import button. Links will available only when this option checked.


In addition, the link's mouse over color can also be set under the "Links" option. You can also make them available when the book was zoomed in by switching the "Enable after zooming in" option to "Enable".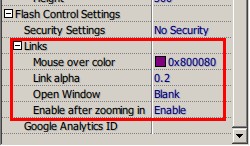 *Please be aware that you have to click "Apply Changes" to apply any changes to the flash book.
Free download PDF to FlashBook Standard
Free download PDF to FlashBook Prefessional