Q: Embed a small flash book to an area of webpage
A: Read the following direction and you will find it's very easy to do.
Here is the question: I'm working on my website of comics, and there are some pages that need demo shown. I know I can add a link and guide readers to open a new window tab to view, but I prefer embed the demo comic to the page directly. It doesn't matter if it has to be small because there isn't that much spaces for them. Is this possible?

Yes, you can set the following setting to enable the minime style.
Find "minime style" option and switch "Use minime style" velum to "Yes". And then change the width and height velum (unite: pix) to define size.
The book shows nothing changed until you embed it to webpage.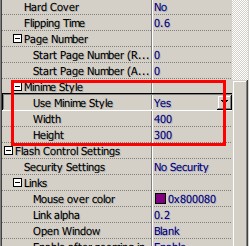 *Please be aware that you have to click "Apply Changes" to apply any changes to the flash book.
Free download PDF to FlashBook Standard
Free download PDF to FlashBook Prefessional