Q: Enable the page flipping effect to prompt readers to flip
A: Read the following direction and you will find it's very easy to do.
I have some PDF files to convert to flip books, and a problem comes across: as we know, flash format flip books are e-books with page flipping effect like real books. But not anyone know much about flash flip books, some of them may not know this can flip, and the question is I expect there is something I can do to the flash book so that readers will know they should flip to next page. Is that feasible?

Enable the page corner flipping effect may achieve this requirement.
Find "show corner flip effect" option and switch velum to "true", and then apply change. An animated page corner upturned effect will be enabled, readers may notice this.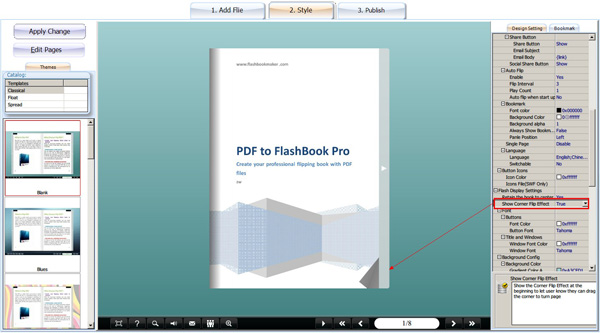 *Please be aware that you have to click "Apply Changes" to apply any changes to the flash book.
Free download PDF to FlashBook Standard
Free download PDF to FlashBook Prefessional