Q: How to add the watermark only on the first page of the flipbook?
A: Read the following direction and you will find it's very easy to do.
This is the problem I came across: I'm working on a flipping magazine and am want to add a watermark of my company and some descriptions to the first page, only the first page. But I tried adding watermark, the software adds them to all pages, I don't know how to make it. Can you tell me how?

You can set a range for the watermark. In default, watermarks are added to all pages, you have to set it a range if you want a specific page to be added.

Step1: select a watermark file and click "edit" button.
Step2: switch to "range" tab, check "page NO." and input the page number that you want marks to be added.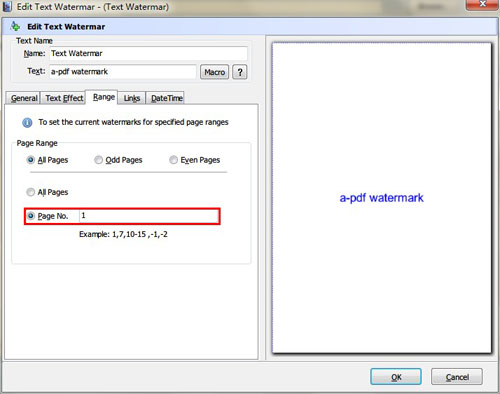 *Please be aware that you have to click "Apply Changes" to apply any changes to the flash book.
Free download PDF to FlashBook Standard
Free download PDF to FlashBook Prefessional