Q: Change the picture layer of flash book
A: Read the following direction and you will find it's very easy to do.
I'm working on my flash flipping album, and I had some pictures added to it. I'm trying to manufacture overlapping effect but I found the pictures layer order was not correct. Should I have to add them by the order I want? Can I change the layer order after pictures added?

After you added all pictures, you can see icons as below on the image properties window. Actually they are buttons to change the picture layer order as you say. Click to choose a picture and choose a layer pattern of it. The icon from right to left stand for "on top", "move to upper layer", "move to lower layer", "on bottom".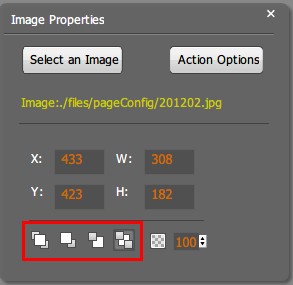 *Please be aware that you have to click "Apply Changes" to apply any changes to the flash book.
Free download PDF to FlashBook Standard
Free download PDF to FlashBook Prefessional