Q: How to mute flipping sound effect of the flash book?
A: Read the following direction and you will find it's very easy to do.
The flipping sound effect is really great, when I turn the page, it sounds like I'm flipping a real book. But it gets monotonous when hear for a long time, as it's not a real one after all, they sounds the same. So I guess it may be better to mute the sound effect, how can I do that?

You can simply click the "sound off" button on the control bar. Or disable flipping sound when doing design settings.


Switch the Enable sound velum to "disable", so that your outputted flippingbook flipping sound will be muted forever.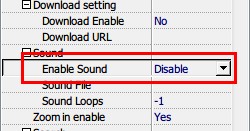 *Please be aware that you have to click "Apply Changes" to apply any changes to the flash book.
Free download PDF to FlashBook Standard
Free download PDF to FlashBook Prefessional