Q: Search button disappear from the flippingbook?
A: Read the following direction and you will find it's very easy to do.
My question is: I know the software has content search feature, and I checked the "enable search" button before importing PDF file. But here is the problem: how to search? I supposed there should be a button or something. I even tried ctrl + F buttons, but not work.

You have to enable the search button too.
Check the "enable search" button only won't make your flip book searchable, you have to find the "search button" option and switch the value "hide" to "show". There you can see a search button.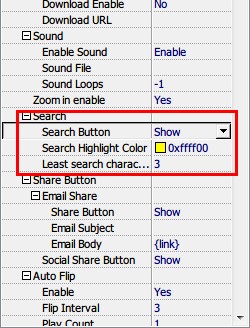 *Please be aware that you have to click "Apply Changes" to apply any changes to the flash book.
Free download PDF to FlashBook Standard
Free download PDF to FlashBook Prefessional