Q: What is the different between share and social share button?
A: Read the following direction and you will find it's very easy to do.
Hey, I'm here to ask a question. I found that there are two buttons that I can use to share my flash books, but I don't know what's different between the "share" button and "social share" button?

As a basic feature of PDF to FlashBook software, sharing your flash books is quite a convenient function. You can share your works to many mainstream platforms like Twitter, Facebook and even other social networks. You can share books with two means: share via e-mail or share via social networks

.
"Share" button allows you to share your flippingbooks by sending e-mails; and if you choose "social share" button, you can share the book link to the chosen social network.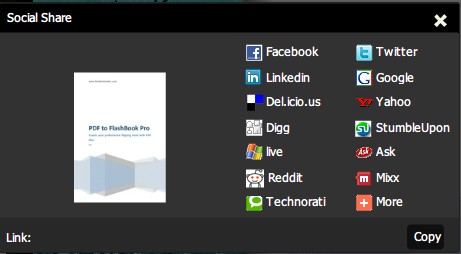 *Please be aware that you have to click "Apply Changes" to apply any changes to the flash book.
Free download PDF to FlashBook Standard
Free download PDF to FlashBook Prefessional