How to protect copy right of published eBooks online?
As the trend of publishing eBook online becomes more and more popular nowadays, many publishers would care about the security problems of the published eBook. How to protect your created flash eBook from unauthorized access with standard password security?
FlashBook creator tools allows you to add open passwords or completely view passwords to protect your create Flash Books. The used standard RC4 encryption method to protect your flash book content will make the cracked encrypted Flash book pages into messy codes.
After importing your file, click "Options->Flash Security" to enter into Flash Security Config interface: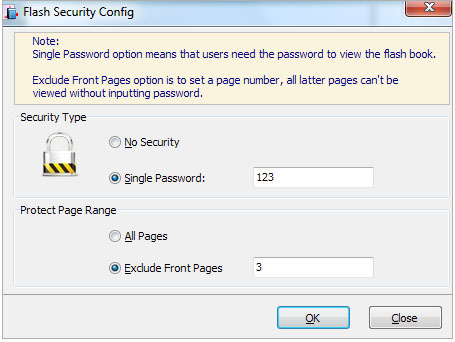 Check "Single Password" option and then input passwords with any letter, number or even any symbol. You can also define "Protect Page Range" as All Pages or just the pages after defined page number. For example, if you set "Exclude Front Pages" as "3", then readers need to input passwords to read pages from page 4.
Very easy but useful feature for sharing digital eBooks online, isn't it?