Q: Can I define the page number box's location freely for flash book?
A: Read the following direction and you will find it's very easy to do.
There is a page number box which shows current page number and page number of flash book. In Float template, there are two tool bars in the inner flash window. To design a good looking appearance for online publication, users are freely to define buttons for the tool bar. You are allowed to make the page number box shows on top or bottom besides that you can define buttons show or hide.
Step1, open the PDF to FlashBook Professional;
Step2, choose a Float template for flash book;
Step3: find the "Page Number Box On…" bar in the top of the right panel, select "False" or "True" according to needs. False means to place the page number box on top and true means to place the page number box on bottom.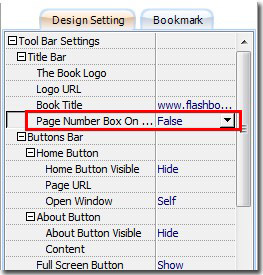 *Please be aware that you have to click "Apply Changes" to apply any changes to the flash book.
Free download PDF to FlashBook Standard
Free download PDF to FlashBook Prefessional