Q: Can I make flash book an animation background?
A: Read the following direction and you will find it's very easy to do.
It is great that flash book can flip with stunning flash effect. It works like a real book. We are able to customize template with beautiful background in our own styles. Usually, we import background image to decorate our book. But today, I would like to tell you that you are also able to insert flash animation file which suffixes with ".swf" into your flip book. By this way, you are suggested to define the flip book a pure color background or a gradient color background.

Step1: open PDF to FlashBook Professional and import PDF file;
Step2: define the background color for the book;
Step3: import a flash animation for "Background File" bar;
Step4: apply change to see the effect as below.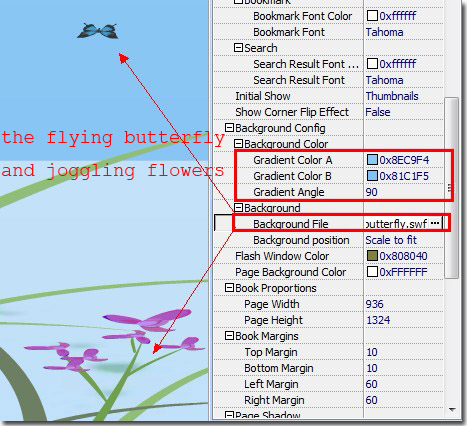 *Please be aware that you have to click "Apply Changes" to apply any changes to the flash book.
Free download PDF to FlashBook Standard
Free download PDF to FlashBook Prefessional