Q: Why I can only import ten pages into flash book maker each time?
A: Read the following direction and you will find it's very easy to do.
When designing flash book with the flash book maker, you might have a problem that you can only import ten PDF pages for each time. Even though you have selected all pages for the page range, the problem is still. Well, I would tell you today that there is an option for quick import PDF file. We have considered that some people might need to design template only and they don't need all pages. Quick import will help to save time of importing.
So just click "Add File" tab and transfer to import window. Unselect "Quick import" option as below. By this way, you problem will be solved.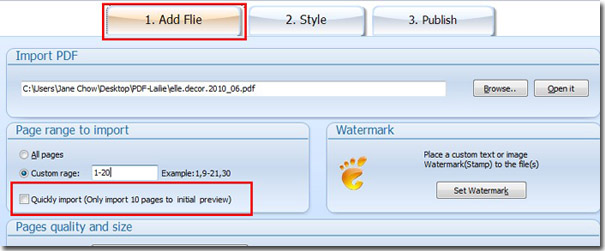 *Please be aware that you have to click "Apply Changes" to apply any changes to the flash book.
Free download PDF to FlashBook Standard
Free download PDF to FlashBook Prefessional