Q: Make flash books with animated effect?
A: Read the following direction and you will find it's very easy to do.
I'm going to make a flash book myself, and there is a question. Does the PDF to FlashBook Lite have some special feature from other flash book creators? Maybe some animation effect will make a flash book look great.

Yes, it does have a special feature. You can make nice flash book with flash animated effects.
Switch to "effect" tab in the left panel, you can see some build-in flash effects under this tab. Click to choose one, and then apply change. There you will see the effect on your book.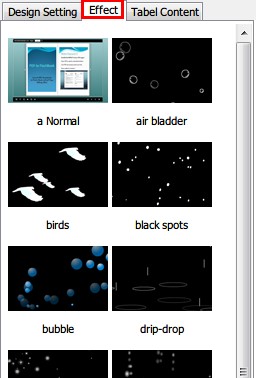 *Please be aware that you have to click "Apply Changes" to apply any changes to the flash book.
Free download PDF to FlashBook Lite
Free download PDF to FlashBook Standard
Free download PDF to FlashBook Prefessional