Q:How to add a title for my flipping book?
A: Read the following direction and you will find it's very easy to do.
As we know, the original setting title of flash book is "www.flashbookmaker.com". But sometimes, you may want to replace it with a unique title for your book. The following steps can help you.
Step 1: choose the "Design Setting" tab, you will see a tutorial bar ahead;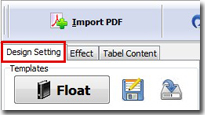 Step 2: find "Tutorial Title" under "Tutorial", click it and enter the title, for example  "my favorite book", in the blank;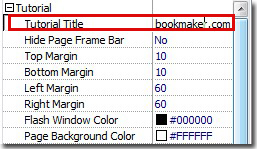 Step 3: apply the change, you will find the title is on top.

*Please be aware that you have to click "Apply Changes" to apply any changes to the flash book.
Free download PDF to FlashBook Lite
Free download PDF to FlashBook Standard
Free download PDF to FlashBook Prefessional