Q:Can I design themes by myself and import them to my other e-books?
A: Read the following direction and you will find it's very easy to do.
Sometimes, I want to design my own themes and make them reuse for my other e-books. But I don't know the way to realize this.
We allow users to design themes by themselves besides providing free templates of high quality on website.
Step 1: design your e-book, such as set the background, choose a favorite animated effect.
Step 2: export your settings as themes by click "File" menu at the left top, then click "Export Current Settings as Themes".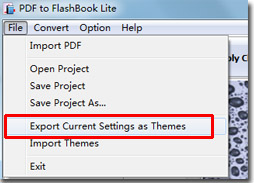 Step 3: export it after finish filling in the "Output Folder" and the "Theme Name";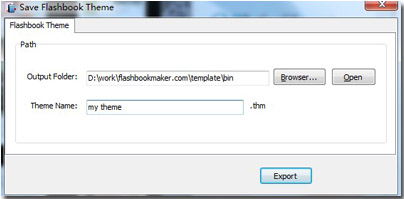 Step 4: you can import the themes which you export by clicking "File"-->"Import Themes" at last.
*Please be aware that you have to click "Apply Changes" to apply any changes to the flash book.
Free download PDF to FlashBook Lite
Free download PDF to FlashBook Standard
Free download PDF to FlashBook Prefessional