Q:Can I define the flipping book margin by myself?
A: Read the following direction and you will find it's very easy to do.
I have import an attractive theme to my flashbook, and this time I want to catch audiences' eyes by highlighting the theme but not the books' content. So I may need to widen the margin. Is there any quick way to make it?
We have classified four margins for you to define by yourselves. They are top margin, bottom margin, left margin and right margin.
Step1: make sure that the "Design Setting" tab is chosen.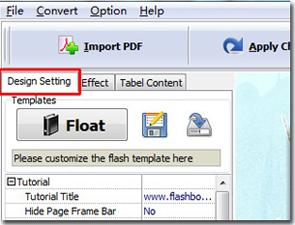 Step2: find the "Top Margin" bar, the "Bottom Margin" bar, the "Left Margin" bar, and the "Right Margin" bar under the "Tutorial" tab.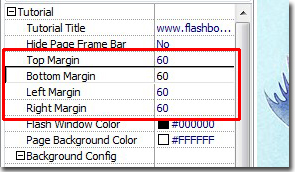 Step3: fill values into each one of them as you like. And apply change at last.
*Please be aware that you have to click "Apply Changes" to apply any changes to the flash book.
Free download PDF to FlashBook Lite
Free download PDF to FlashBook Standard
Free download PDF to FlashBook Prefessional