Q:How to make the background music play all the time?
A: Read the following direction and you will find it's very easy to do.
I have embedded some melodious music into my flash flipping books to relax readers when they read the books. I want to make it play repeatedly. Where can I do the setting when creating the books?
Step1: click the "Design Setting" tab to transfer the panel to design setting status in the left of the window.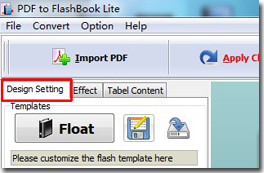 Step2: find the "Sound Loop" bar under the "Sound" tab.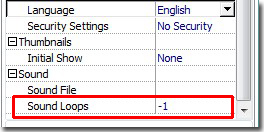 Step3: import your music file and set a value into the blank of the "Sound Loop" bar. For example, you should fill "-1" into it for "-1" stands for circulation playing mode. By the way, a value which is greater than zero stands for the times of playing.
*Please be aware that you have to click "Apply Changes" to apply any changes to the flash book.
Free download PDF to FlashBook Lite
Free download PDF to FlashBook Standard
Free download PDF to FlashBook Prefessional