Q: How to use my own flash effect?
A: Read the following direction and you will find it's very easy to do.
I'm using the PDF to FlashBook Lite to make flash books. I found that I can use flash animated effect to the book, so I tried. That's quite a great feature, but when I tried to apply my own flash effects, I stuck. I couldn't find a button like "import flash effect" or something, does that means I can use the build-in effects only?

Of course you can use your own flash effects. The option is not finding in the "effect" tab.
There is a "scene effect" option in design setting panel, click "…" button to choose .swf file from your computer. This is how to use your own effects.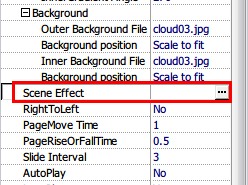 *Please be aware that you have to click "Apply Changes" to apply any changes to the flash book.
Free download PDF to FlashBook Lite
Free download PDF to FlashBook Standard
Free download PDF to FlashBook Prefessional