Q: Can my flash books play in looping mode?
A: Read the following direction and you will find it's very easy to do.
I have made my flash books of pictures. I need to make it into a cycling mode to show to my viewers. Thus it should not stop once opened. I think this is a practical way to be impressive by my books in special occasion.
Make a plipping book play in looping mode by our PDF to FlashBook Lite is very easy .
Step1: choose the "Design Setting" tab to list the design setting panel in the left of the window.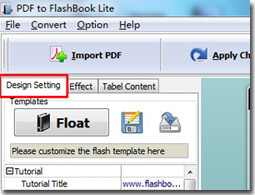 Step2: find the "LoopPlay" bar under the "Tutorial" setting group in the panel.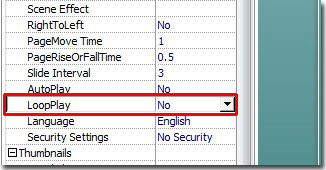 Step3: transfer "No" to "Yes" as below. Now you can find that your book can play all the time when it is open.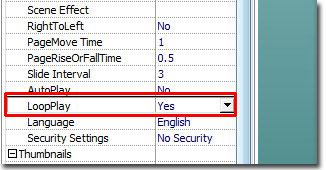 *Please be aware that you have to click "Apply Changes" to apply any changes to the flash book.
Free download PDF to FlashBook Lite
Free download PDF to FlashBook Standard
Free download PDF to FlashBook Prefessional