Q: Is it able to define the slide interval of the flash pages by myself?
A: Read the following direction and you will find it's very easy to do.
I have got a problem about the flipping books slide time. It slides too fast to read sometimes or too slow that I have to spend much time to wait. Can I define the slide interval according to different occasions to solve this problem?
You can set the slide interval time by the similar method that you use to set the "PageMove Time" or the "PageRiseOrFallTime".
Step1: choose the "Design Setting" tab to list the design setting list in the left of the window.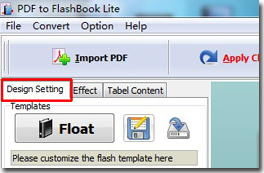 Step2: find the "Slide Interval" bar under the "Tutorial" group. Fill in the value what you like. The unit of this blank is second. So if you fill in 3, you will have 3 second to read each page.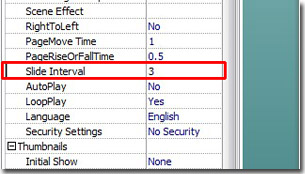 *Please be aware that you have to click "Apply Changes" to apply any changes to the flash book.
Free download PDF to FlashBook Lite
Free download PDF to FlashBook Standard
Free download PDF to FlashBook Prefessional