Q: How to burn my flip book to a CD?
A: Read the following direction and you will find it's very easy to do.
I have made a personal PDF to flip book to record my live. I need to burn it to a CD. Because I think CD is a good carrier to save data. But I am not sure if this can be realized by using the PDF to FlashBook Lite.
PDF to FlashBook Lite is a utility which can transfer PDF files to beautiful flash books quickly. You can not only create online publications, but also be able to build offline publications such as CD.
Step1: click the "Convert to flash" button to open the converting window.

Step2: check the "Burn to CD" option, choose your CD Writer, and fill in your Disc title. You can also make your CD to play automatically by choosing the "Make it automatically play the slide in CD" if necessary.

In addition, to make it automatically play the slide in CD, you should make sure that the value is "Yes" in the "AutoPlay" bar in the design setting panel at first.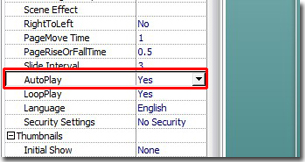 *Please be aware that you have to click "Apply Changes" to apply any changes to the flash book.
Free download PDF to FlashBook Lite
Free download PDF to FlashBook Standard
Free download PDF to FlashBook Prefessional