Q: Can I define the background color directly without importing any theme?
A: Read the following direction and you will find it's very easy to do.
I want to design a concise interface for my pdf to flash book. No any theme is needed. Just fill in a single color simply. How can I make it in a short time with the PDF to FlashBook Lite?
The PDF to FlashBook Lite enables you to define the color of the inner background and the outer background. It also allows the color gradient by defining a gradient angle. You can do this design setting in the left design setting panel as usual.
Step1: find the "Background Color" under "Background Config" group in the panel. The default color and gradient angle is as below.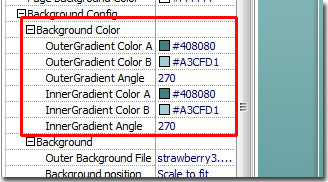 Step2: define the OuterGradient Color, the InnerGrandient Color, and the Angle according to your needs. I suggest you to remove the background file at the same time.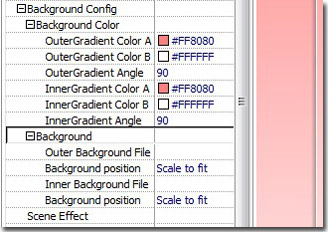 *Please be aware that you have to click "Apply Changes" to apply any changes to the flash book.
Free download PDF to FlashBook Lite
Free download PDF to FlashBook Standard
Free download PDF to FlashBook Prefessional