Q: How to embed a sound file into my pdf flip book?
A: Read the following direction and you will find it's very easy to do.
I consider that sound is a key element for advertisements and feature films. It can help to comfort our viewers. And it is a practical to give a deep impression. So it will be perfect if this page flipping software can achieve this function.
we have taken our users' demands into consideration when designing the PDF to FlashBook Lite. You can add sound file easily in the left design setting panel. You can also define the sound loops according to your needs.
Step1: click "…" to select a background sound for the slide in the "Sound File" bar.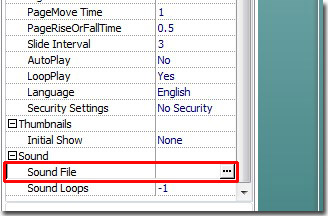 By the way, you can also set the play times in the "Sound Loops" bar. "-1" means circulation playing mode. Meanwhile, a value which is greater than zero stands for the times of playing.
*Please be aware that you have to click "Apply Changes" to apply any changes to the flash book.
Free download PDF to FlashBook Lite
Free download PDF to FlashBook Standard
Free download PDF to FlashBook Prefessional