Q: Is there any quick way to flip the flash book to a specific page?
A: Read the following direction and you will find it's very easy to do.
My flash flip book contains a large number of pages. I need to go to a specific page sometimes. But flip one by one will cost me a lot of time. Is there any feature can help on this? I think such function will bring much convenience to our users.
Of course, the PDF to FlashBook Lite can direct to the page which is defined by a page number. You can realize this by two simple steps. Just fill in a page number and press Enter to complete the search.
For example, find the pages bar in the flash window as below. Fill in a page number such as "5" and then press Enter on your keyboard. You can get the page you need in a second.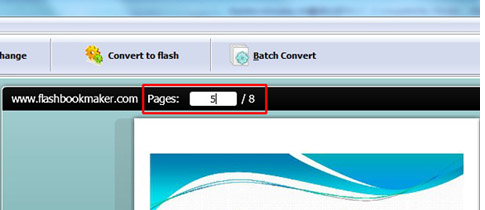 *Please be aware that you have to click "Apply Changes" to apply any changes to the flash book.
Free download PDF to FlashBook Lite
Free download PDF to FlashBook Standard
Free download PDF to FlashBook Prefessional