Q: Make flash books with two background pictures
A: Read the following direction and you will find it's very easy to do.
I'm working on a flash book and am want to ask a question. I noticed that there are two backgrounds in the flash book, does that means I can use two different background graphics to them? If yes, that would be a discovery for me.

Yes you're right. There is an inner background and an outer one. You can define two different backgrounds to both of them----and of course, you can use the same.
Find "outer background file" and "inner background file" options in design setting panel, choose different picture files respectively.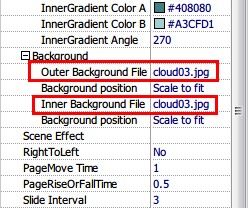 *Please be aware that you have to click "Apply Changes" to apply any changes to the flash book.
Free download PDF to FlashBook Lite
Free download PDF to FlashBook Standard
Free download PDF to FlashBook Prefessional