Q:Why the link I embed into the flip page is not available?
A: Read the following direction and you will find it's very easy to do.
I have added links into my flip pages for my readers to search my product easily. It is also a practical advertisement way for publishers. But the link is not available after converting to flash flip book. What on earth is the reason leads this issue?
You may forget some set when import the PDF files. You can define if the link is able to use according to your needs.
Step1: click Import PDF button to open the import files window.

Step2: make sure that the "Enable Link" option is chosen after selecting a PDF file. Then click Import Now to finish the importing. You will find that each link in your flash flip book is available then.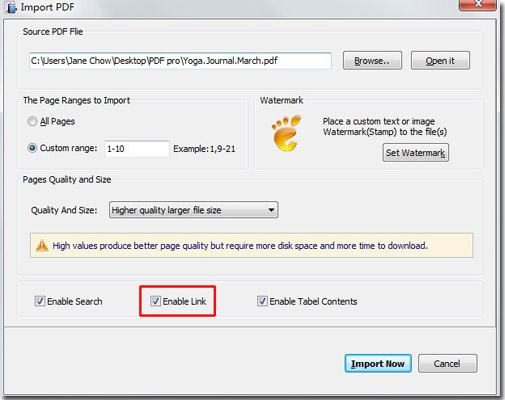 *Please be aware that you have to click "Apply Changes" to apply any changes to the flash book.
Free download PDF to FlashBook Lite
Free download PDF to FlashBook Standard
Free download PDF to FlashBook Prefessional