Q: How to make the flipping book plays automatically when it is open?
A: Read the following direction and you will find it's very easy to do.
I wander if there is any function to make my flipping book plays automatically without any click action whenever it is open. This will be convenient to viewers. And if the flipping book is about products, I can leave a deep impression on readers by this way too.
You can set an auto-play mode for your flipping book if necessary. It is very easy to make it by doing some setting in the Design Setting panel. You can reference to the below tips.
Step1: find the AutoPlay bar in the left Design Setting panel.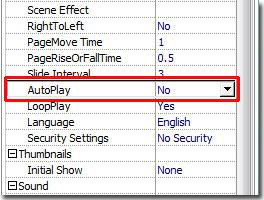 Step2: transfer "No" to "Yes", apply your change. You have finished the setting by then.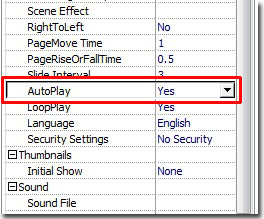 *Please be aware that you have to click "Apply Changes" to apply any changes to the flash book.
Free download PDF to FlashBook Lite
Free download PDF to FlashBook Standard
Free download PDF to FlashBook Prefessional