Q: How to make a multi-level bookmark with the flip book maker?
A: Read the following direction and you will find it's very easy to do.
The bookmark function brings much convenience to our users. And today I want to know that if it is possible to create a multi-level bookmark when I make a flip book? It means to add child tab for some titles. I can work out a clear structure by this way.
As you know, you can set up bookmark for flip book with the PDF to FlashBook Lite. And today I would like to tell you how to create a multi-level bookmark easily. You can reference to the below tips to get some help.
Step1: click Tabel Content tab in the left panel.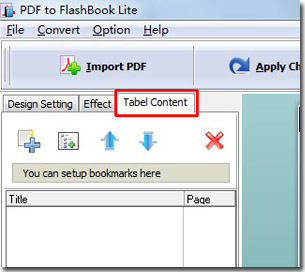 Step2: click the Add button to add a bookmark at first.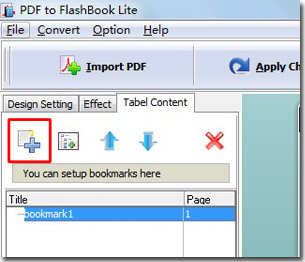 Step3: choose the bookmark you have created, click Add Child button to add a child bookmark. You must make sure that you have chosen a parent-bookmark for the child-bookmark. If not, the Add Child button won't be available.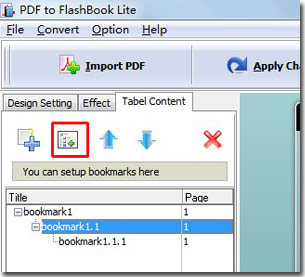 *Please be aware that you have to click "Apply Changes" to apply any changes to the flash book.
Free download PDF to FlashBook Lite
Free download PDF to FlashBook Standard
Free download PDF to FlashBook Prefessional