Q: How to remove the animated effect from the pdf to flip book?
A: Read the following direction and you will find it's very easy to do.
It is very great that the PDF to FlashBook Lite allows users to embed an animated effect into pdf to flip book. This is a practical way to make amazing works. But sometimes I need to remove this animated effect. What is the process? And how many ways I could use to make it?
We provide you two ways to reference:
First, you can find the Scene Effect bar in the left panel, delete the file path, click Enter in your keyboard, and click Apply Change to save the settings.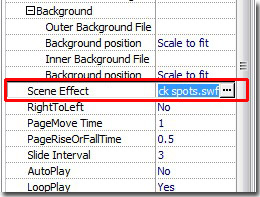 Second, you could also click Effect tab, choose the "a Normal" to return your book to a normal status without any animated effect.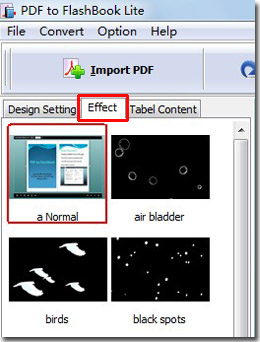 *Please be aware that you have to click "Apply Changes" to apply any changes to the flash book.
Free download PDF to FlashBook Lite
Free download PDF to FlashBook Standard
Free download PDF to FlashBook Prefessional