Q: Is there any way to ensure the color quality of my pdf flip book?
A: Read the following direction and you will find it's very easy to do.
My pdf flip book is made of a large amount of images. I have to protect the picture's quality. Its color must be original status as before. Is the PDF to FlashBook Lite will affect its color when doing the conversion? And how can I prevent this problem?
We have provided three application options for you to choose from. They are SWF, GPL Ghostscript and Inner Library. It can meet different kind of demands of creating flash flip book. Let's learn more about these three options here.
SWF: it is suitable for e-book which is mainly about words. It can make much legible characters, and the output size is smaller.
GPL Ghostscript: it can ensure higher color transfer quality. So you should choose this one for your flip book.
Inner Library: if you want to cut the conversion time, you could choose this one to make a faster convert speed.
Step1: click "Option" -> "Application Options";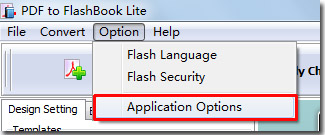 Step2: choose "GPL Ghostscript", click OK to save your change.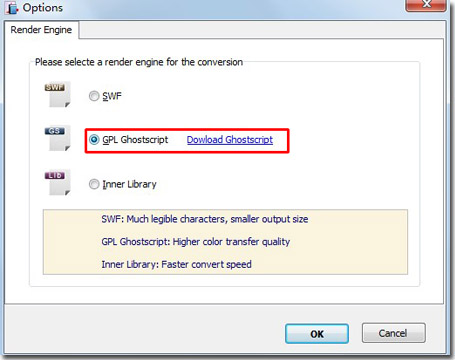 *Please be aware that you have to click "Apply Changes" to apply any changes to the flash book.
Free download PDF to FlashBook Lite
Free download PDF to FlashBook Standard
Free download PDF to FlashBook Prefessional