Q: Add an animated scene effect as the background for pdf to flip book.
A: Read the following direction and you will find it's very easy to do.
Animated scene effect of SWF format is attractive. Embed it into pdf to flip book can help to leave a deep impressive to viewers. I have made many beautiful effects and would like to add them into my flash page flip book.
Animated effect is one of the advantages of PDF to FlashBook Lite. You can do it as importing background image in the left panel.
Step1: click "Design Setting" to show the design panel in the left of the flash window.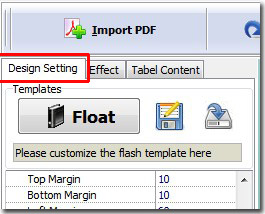 Step2: find the "Scene Effect" bar in the panel.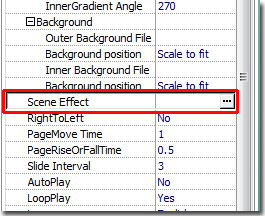 Step3: click "…" to select a SWF file from your computer. Apply change to save the settings.
*Please be aware that you have to click "Apply Changes" to apply any changes to the flash book.
Free download PDF to FlashBook Lite
Free download PDF to FlashBook Standard
Free download PDF to FlashBook Prefessional