Q:Why can't I find my bookmarks when reread my flash book?
A: Read the following direction and you will find it's very easy to do.
Our PDF to flash bookmaker can help to build a bookmark for users' convenience. Maybe you can't find your bookmarks when reread your book. It must be the reason that you forgot to "apply change" when finished the tab setting.
So first, please remember to click "apply change" .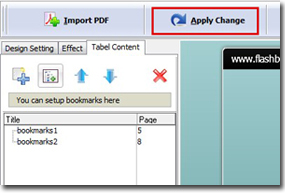 Then, don't forget to confirm that a "tabel to content" icon displays at left and bottom edge of the flipping book window like this:

After steps above are finished, you can use the flash book bookmarks easily by this icon.
*Please be aware that you have to click "Apply Changes" to apply any changes to the flash book.
Free download PDF to FlashBook Lite
Free download PDF to FlashBook Standard
Free download PDF to FlashBook Prefessional